Conference on Oceans Law & Policy: Peaceful Maritime Engagement in East Asia and the Pacific Region
Conference on Oceans Law & Policy: Peaceful Maritime Engagement in East Asia and the Pacific Region
Tokyo, Japan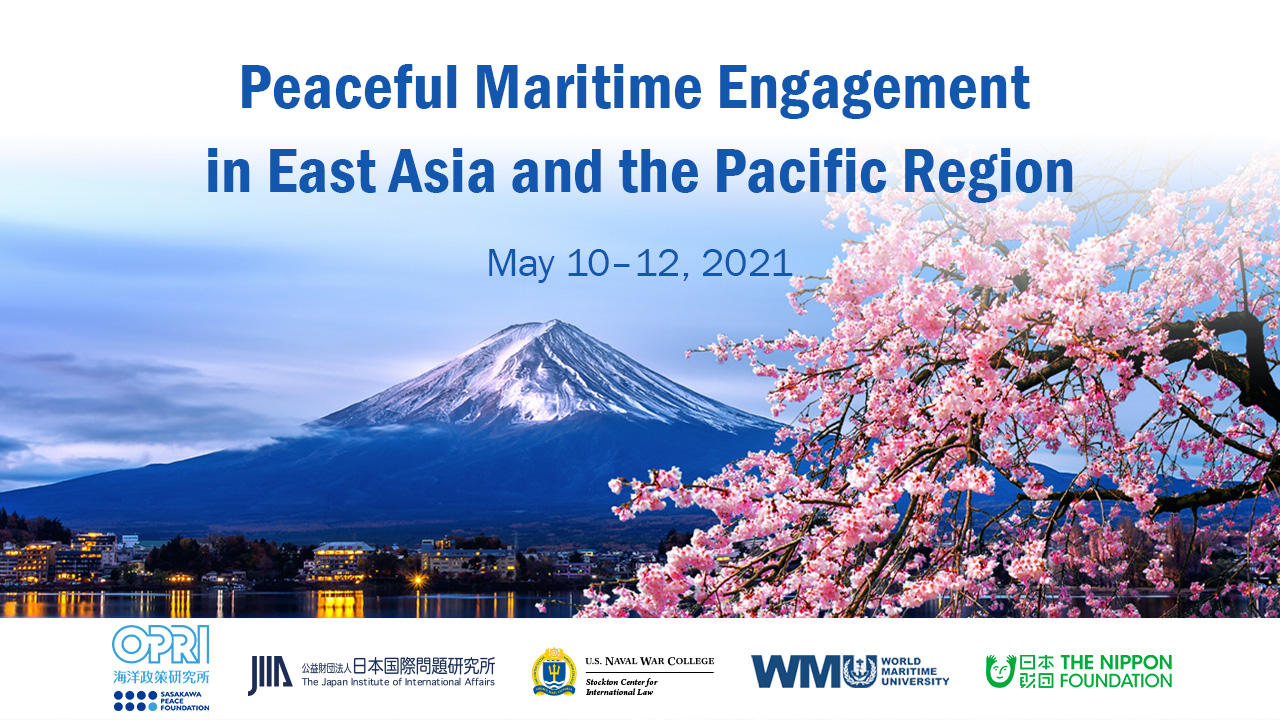 The Japan Institute of International Affairs (JIIA), the Stockton Center for International Law at the U.S. Naval War College, the World Maritime University--Sasakawa Global Ocean Institute, and the Ocean Policy Research Institute at The Sasakawa Peace Foundation (OPRI-SPF) co-hosted a webinar titled "Conference on Oceans Law & Policy: Peaceful Maritime Engagement in East Asia and the Pacific Region" from 10 to 12 May 2021.
Recently, shifting strategic landscape is having a grave impact on the maritime issues and the rule of law of the region surrounding Japan. The international community also faces various maritime challenges, which requires rule-based responses.
This year, at the 44th Annual Conference on Oceans Law & Policy, 44 leading scholars from the world discussed subjects ranging from East China Sea maritime boundaries, baselines and archipelagic states, navigation rights and law enforcement, and maritime security issues concerning small island states; the issues discussed from legal point of view also include Arctic shipping, preservation of the marine environment including the hazard of plastic debris, and the issues arising out of climate change. Approximately 1200 viewers registered to this year's conference.
Program at this year's conference were:
(1) Opening: Introduction
Myron Nordquist, Distinguished Fellow, Stockton Center for International Law, US Naval War College
James Kraska, Chairman and Rear Admiral Charles H. Stockton Professor of International Maritime Law, US Naval War College
Cleopatra Doumbia-Henry, President, World Maritime University
Kenichiro Sasae, President, The Japan Institute of International Affairs
Hide Sakaguchi, President of the Ocean Policy Research Institute, The Sasakawa Peace Foundation (SPF)
(2) Opening: Keynote Speech
Shunji Yanai, Judge, International Tribunal for the Law of the Sea
Michael Lodge, Secretary-General, ISA
Rüdiger Wolfrum, Head of Projects, Max Planck Foundation for International Peace and Rule of Law
(3) Opening: Policy Speech
IMADA Katsuhiko, Director, Law of the Sea Division, International Legal Affairs Bureau, Ministry of Foreign Affairs of Japan
(4)Panel 1「Baselines and Archipelagic States」
Masaharu Yanagihara Professor, The Open University of Japan (Moderator)
Clive Schofield Professor, Head of Research, WMU-Sasakawa Global Ocean Institute
David Freestone Professor, George Washington University Law School
Dai Tamada Professor, Kobe University
Henry S. Bensurto, Jr Consul General of the Philippines in San Francisco
Richard Barnes Professor, University of Hull
(5)Panel 2「Navigation Rights/Law Enforcement」
Jin-Hyun Paik Judge, International Tribunal for the Law of the Sea (Moderator)
David Goddard Assistant Legal Adviser, Foreign and Commonwealth Office
Robert Beckman Emeritus Professor, National University of Singapore
David Letts Associate Professor, Australian National University
Kyo Arai Professor, Doshisha University
(6)Panel 3「Arctic Shipping」
Douglas Burnett Johns Hopkins University Applied Physics Laboratory (Moderator)
Aldo Chircop Professor, Dalhousie University
Kentaro Wani Associate Professor, Osaka University
Evan T. Bloom Senior Fellow, Wilson Center Polar Institute, and former Acting Deputy Assistant Secretary of State, U.S. Department of State
Zhen Sun Research Officer, WMU - Sasakawa Global Ocean Institute
(7)Panel 4「East China Sea Maritime Boundaries」
James Kraska Chairman and Rear Admiral Charles H. Stockton Professor of International Maritime Law, US Naval War College (Moderator)
Hironobu Sakai Professor, Kyoto University Graduate School of Law
Yann-huei Song Professor Dr., Academia Sinica (retired)
LEE Keun-Gwan Professor, Seoul National University
Stuart Kaye Professor, University of Wollongong
(8)Panel 5「Maritime Security Issues Concerning Small Island States」
Raul "Pete" Pedrozo Professor, Stockton Center for International Law, USNWC (Moderator)
Cleo Paskal Associate Fellow, Chatham House
Dominique Bourgnon de Layre Lieutenant-Commander, ALPACI
Masahiro Kurosaki Associate Professor of International Law, National Defense Academy of Japan
(9)Panel 6「Preservation of the Marine Environment, Including the Hazard of Plastic Debris」
Havas Oegroseno Ambassador of the Republic of Indonesia to the Federal Republic of Germany (Moderator)
Aleke Stöfen-O'Brien Associate Research Officer, WMU - Sasakawa Global Ocean Institute
Tomofumi Kitamura Associate Professor, The University of Tokyo
Joanna Mossop Associate Professor, Victoria University of Wellington
Laurent Parenté Ambassador and Permanent Representative of the Republic of Vanuatu to the United Nations International Maritime Organization (IMO), Government of Republic of Vanuatu
(10)Panel 7「Issues Arising Out of Climate Change」
Ronán Long Professor, WMU - Sasakawa Global Ocean Institute (Moderator)
Davor Vidas Professor, The Fridtjof Nansen Institute
Pierre-Jean Bordahandy Professor, University of the South Pacific
Naoki Iwatsuki Professor, Rikkyo University
Karen Scott Professor, University of Canterbury
(11)Conclusion
Atsuko Kanehara Professor, Sophia University, Faculty of Law / President, Japanese Society of International Law / Councilor, the Sasakawa Peace Foundation