What We Do
Overview
JIIA is pleased to announce that JIIA has launched a new project to offer a broad range of views on geostrategic and historical issues that Japan currently faces. We will present in English the latest discussion on Japan's evolving foreign policy as it adapts to new geopolitical realities. JIIA believes that this project will be an indispensable source of information and ideas for anyone interested in Japan's foreign relations.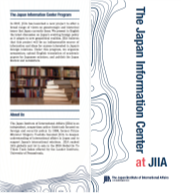 Library Guide
Open: Mon-Fri 10:00-13:00, 14:00-17:00
Closed: Saturdays, Sundays, national holidays, summer holiday period, New Year's holiday period (December 29 - January 3).
Conditions of use
Both members and non-members may use the Library.
Before coming to the Library, please inform us of the date and time you intend to visit.
TEL: 03-3503-7263
You will be asked to complete an application form to use the Library, so please bring identification.
The Library does not loan out materials.
The Library operates on a closed-stack system, so the Librarian will find and provide you with the requested materials.
Please view these materials in the reading room.
Photocopies
To have photocopies made, please complete a "Photocopy Application Form," after which the Librarian will make the photocopies for you.
Photocopies may only be made as permitted by copyright law.
Only black-and-white photocopies are available.
The photocopying fee is 30 yen per page for members, and 50 yen per page for non-members.
Bulk photocopying may require that the photocopies be sent to you by mail at a later date (postal charges will apply).